Linux and ApacheFoundations. We are also active members in the Open API Initiative, Cloud Native Computing Foundation (CNCF) and the TODO Group. We are also actively interacting with members of our own open source project communities (e.g. Hygieia and Cloud Custodian).
Formalizing Guardrails Through a Corporate Policy and Standard
In 2016, the OSO defined a corporate level Open Source Software Policy and Open Source Software Standard based upon an example from the Linux Foundation. The policy addresses three use cases and calls out the requirements to manage risk when:
Using open source software projects.
Contributing to open source projects.
The policy also formalizes accountabilities for the three main open source stakeholders at Capital One, including:
The developer/engineering community.
Establishes a new strategic partnership between from diverse groups called the Open Source Steering Committee.
Defines the tactical partnership between OSO, Legal, and Security within an Open Source Review Board.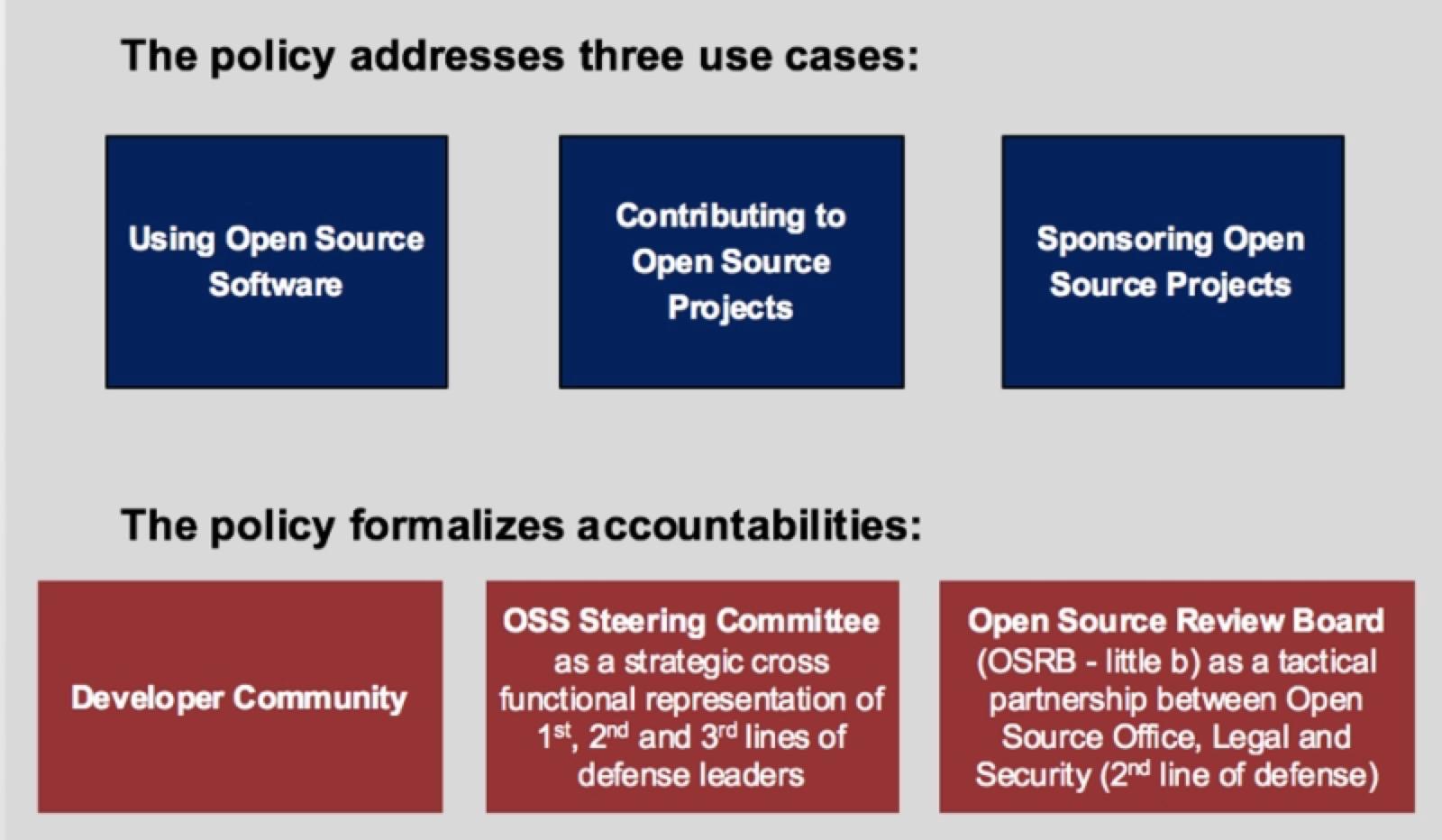 As we developed this policy and formalized accountabilities, we established the tactical partnership between OSO, Legal, and Security as the OSRB. This tactical team works to guide open source activities with the development community. We also established a strategic leadership committee named the OSS Steering Committee, a group comprised of a dozen leaders who provide strategic direction for the development community.
Taking it to the Next Level
As we look ahead in our open source journey, we plan to focus on:
Continue to educate our growing technology organization.
Strike a balance between managing risks and minimizing development bottlenecks.
Further automate license and security scanning and integrate it into our build process.
Establish and grow a robust governance function.
Specifically, in 2018 we're focusing on education, strengthening awareness in the development community, and establishing our role as an advisor.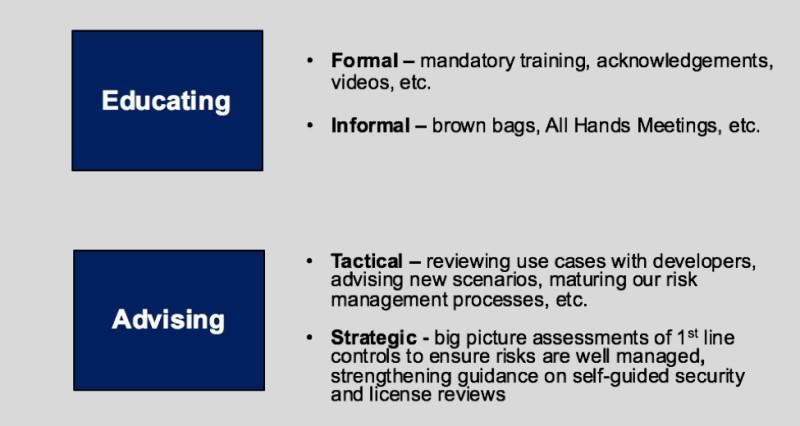 Collaboration among the multiple stakeholders has been key to navigating our open source journey. Capital One is a technology driven company and we are unified across our organization on taking our open source activities to the next level in 2018.
At the end of the day, we strongly believe in the benefits of involvement in open source projects. By managing the associated risks through policies, standards, and cross-departmental collaboration, the OSO allows Capital One to fully leverage our involvement in this community.
Acknowledgments
Thank you to Nadine Hoffman and the Capital One OSPO for contributing this guide based on this original article.

These resources were created in partnership with the TODO Group: the professional open source program networking group at The Linux Foundation. A special thank you to Pam Baker for writing assistance and the open source program managers who contributed their time and knowledge to making these comprehensive guides. Participating companies include Autodesk, Comcast, Dropbox, Facebook, Google, Intel, Microsoft, Netflix, Oath (Yahoo + AOL), Red Hat, Salesforce, Samsung and VMware. To learn more, visit: todogroup.org.